Implant-Retained Bridge – South Portland, ME
Bridging the Space in Your Smile
Do you have multiple missing teeth? The space in your smile may seem to be growing wider and wider, making you self-conscious about your appearance. You may also find it challenging to chew your food and clearly enunciate your speech. Additionally, you are at an increased risk of future tooth loss and other oral health problems. What can help you fill in the gap and regain a complete, healthy smile? Dental implants offer an effective, efficient solution. Just a few implants may be able to provide the base of support necessary to replace several missing teeth. On this page, you will learn more about how an implant-supported bridge or partial denture might be able to restore your lost dentition.
Two Consecutive Missing Teeth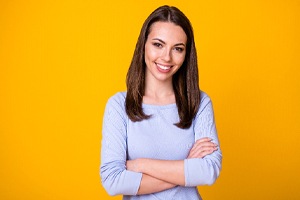 If you have two consecutive missing teeth, you do not need a dental implant to replace each lost tooth. Rather, you may require just one implant. It will support a dental crown, and the crown will be attached to a pontic (an artificial tooth). You can think of this conservative solution as a convenient two for one special!
Three or More Consecutive Missing Teeth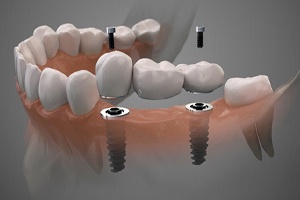 It is often possible to replace three or more consecutive missing teeth with just two dental implants. One implant gets placed at each end of the empty space. Each implant supports a crown, and the crowns support one or more pontics between them. If you have more than four or five missing teeth in a row, you might need more than two implants to support your rebuilt smile. Your dentist will evaluate your unique situation and let you know what you can expect during the treatment journey ahead of you.
Multiple Missing Teeth Throughout an Arch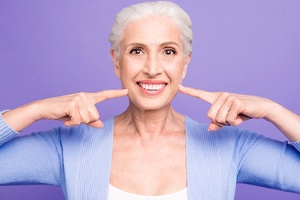 Of course, many patients do not have consecutive missing teeth. The gaps in their smile may be at different places throughout a dental arch. If that is true of you, there are a few possible options for filling in the empty spaces. You might benefit from an implant-supported partial denture, which fits in exactly where it is needed, sort of like a puzzle piece. You might also benefit from a few implant-supported crowns to replace individual lost teeth. Patients whose remaining natural teeth are suffering from significant damage may opt to get them extracted and then proceed with full-arch replacement.
Benefits of Implant-Retained Multi-Tooth Replacement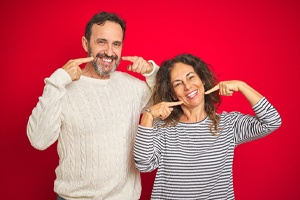 When a bridge or partial denture is attached to dental implants, it provides numerous advantages, including:
A strong, secure bite force that can stand up to virtually any food
Stimulation for the jawbone that helps it to remain as strong and dense as possible
Usually no need to modify any of the remaining natural teeth
The potential to last for 30 years or longer — perhaps even for a lifetime
Are you interested in discovering how implant-retained dental prosthetics may be able to rebuild your smile and renew your confidence? Contact our team today to ask questions or schedule a consultation with one of our talented dentists.