YOUR DENTIST IN SOUTH PORTLAND, ME AND SURROUNDING AREAS
Welcome to our Dental Office
---
---
Here at Gannett Drive Dental, we are committed to providing high-quality dental services and providing personalized care to each patient nearby. Dr. John Kivus, Dr. Jacob Fillebrown, and their team strive for a high standard of comprehensive dentistry while making sure that patients of all ages enjoy their dental care in a relaxed and comfortable environment. Our dentists further ensure excellent dental care in South Portland, Maine, and the surrounding areas by utilizing the latest in high-tech dentistry, including cone beam CT scans, Invisalign® clear aligners, and a digital scanner. We look forward to giving you a healthy, happy smile that lasts a lifetime!
See What Our Dental Patients Are Saying
---
---
"I just transferred to this dentist office as I had heard good things and they by far exceeded my expectations! The staff was very welcoming and greeted me by name despite never having met me. My hygienist, Erin was very professional and friendly the appointment just flew by and she made me realize I should be using sensitive toothpaste, a very pleasant surprise when the sensitive went away. Dr. Fillebrown came to see me as well to give his full assessment and recommendations, I truly appreciated his ability to ensure I felt like the only patient and not rushed to get to the next appt. Very professional and welcoming I am excited to go back the dentist for sure!!"
Taylor T.
New Gloucester, ME
"Dr. Fillebrown and team are top notch. If you haven't shopped around for a new dentist in a while, I'd recommend you get in touch with Gannett Drive Dental. They're very knowledgeable and welcoming, and take the time to explain any work that needs to get done so you know what you're getting into. Their prices are worth comparing if you're getting major work done (Invisalign was much cheaper with this office than any other I'd found, and crown prices were competitive as well). Great quality of work, highly recommended!"
Daniel D.
Westbrook, ME
"Dr. Fillebrown is extremely professional and knowledgeable. The office staff is very outgoing and friendly and I look forward to going there, whether it be for a cleaning or getting my teeth whitened. Would recommend to anyone looking for a fun dental office that takes families in the southern Maine area."
Samantha P.
South Portland, ME
"Best and most compassionate dental staff! Highly recommend them! I originally went to this office with the recommendation of a colleague. I was scared to death of dentists. These guys changed all that. Michelle is usually the hygienist I see and she's super gentle when she does a cleaning. They have a Sonicare cleaning option which sprays water on your teeth of it's been a while since a last cleaning. Dr Kivus is really funny and makes me feel at home there. I'll never go to a different dentist unless I have to move."
Bradley D.
Gorham, ME
"Fast efficient service in a calming and welcoming atmosphere. I didn't know going to a dentist could be like this! Dr. Fillebrown cleaned my teeth and filled one cavity. After 10 years of not going to a dentist he made me feel welcomed and at ease (this takes a lot to do). I look forward to returning for my next appointment! I will also start flossing more due to his knowledgeable feedback. Thanks and keep up the good work!"
Lucas M.
Auburn, ME
More Reviews
EXPERIENCE THE GANNETT DRIVE DENTAL DIFFERENCE
---
---
Are you overdue for your routine dental checkup and cleaning? Does a painful toothache need to be restored with a crown and bridge? Is it time to replace one or more missing teeth with state-of-the-art dental implants? Gannett Drive Dental offers a wide range of dental treatments and procedures near you to ensure that your oral health needs are met. You can count on our caring dentists to help you achieve and maintain your brightest, healthiest smile possible in an atmosphere that is both fun and professional.
Request Appointment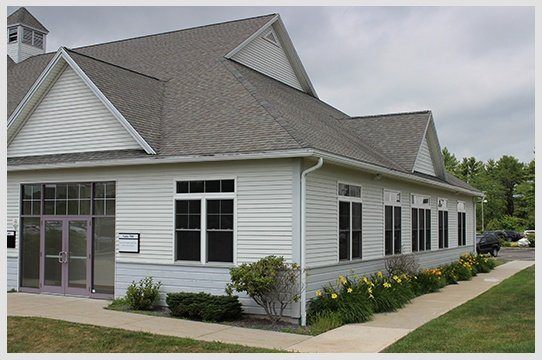 MAKING WORLD-CLASS DENTAL CARE AFFORDABLE
---
---
Although the cost should never stand in the way of getting the quality care you deserve nearby, we understand it often does. That's why our team is proud to partner with Northeast Delta Dental insurance, and we are happy to submit claims to many of the nation's other leading insurance carriers. We can also discuss your financial options in-depth at your appointment to determine which one is best for you. Just know – whether you are interested in preventive, restorative, emergency, or cosmetic care, we strive to make your visit with us as affordable as possible.
FINDING OUR OFFICE IN YOUR AREA
---
---
When it's time for your appointment, you can find our office at 324 Gannett Drive, Suite 500, just a few minutes from I-95. We are surrounded by a number of familiar landmarks, including Target, Bed, Bath & Beyond, and The Maine Mall, making us incredibly convenient for patients on the go. If you have any difficulty locating our office and would like step-by-step instructions, don't hesitate to give our team a call!