Dentures – South Portland, ME
Eat Your Favorite
Foods Again
Tooth loss is a serious problem that affects dozens of millions of Americans. Because this is such a common issue, modern dentistry has advanced to make dentures more lifelike and comfortable than ever before. While the dentures your grandparents wore might have slipped around frequently and resulted in embarrassing speech problems, you shouldn't have to worry about that with today's dentures. If you're ready to restore your smile and biting force and be able to eat your favorite foods again, give us a call today to schedule a consultation for dentures.
What Are Dentures?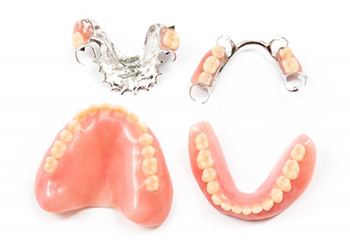 Dentures consist of ceramic teeth attached to a gum-colored acrylic base. There are two basic types of dentures: full and partial. Full dentures, also known as traditional dentures, replace an entire arch of missing teeth. They are most likely what you think of when someone says the word "dentures." Full dentures stay in place with natural suction against the gums, and sometimes denture adhesive if necessary.
Partial dentures, on the other hand, only replace a few missing teeth. They attach to your remaining teeth with metal clasps and fit snugly into your smile like the missing piece of a puzzle, requiring no denture adhesive to stay in place.
Who Should Consider Dentures?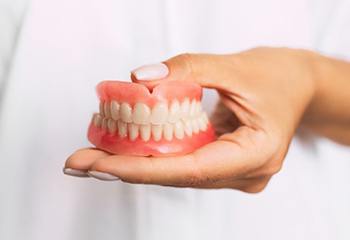 For patients who are missing all of their teeth on either their top of bottom arch, we recommend replacing them with a full denture. Likewise, partial dentures are ideal for patients with some healthy natural teeth remaining. However, before we can place dentures of any kind, we must ensure that your gums are healthy. This means that if you have gum disease, it must be addressed prior to getting fitted for dentures.
Benefits of Dentures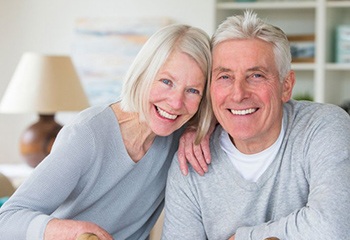 Full and partial dentures both come with several advantages, including:
Allowing you to smile with confidence once again
Letting you bite and chew your favorite foods just like you used to
Allowing you to eat a variety of healthy foods like raw vegetables and chewy meats
Avoiding speech problems that come with having missing teeth
Tips for Daily Denture Maintenance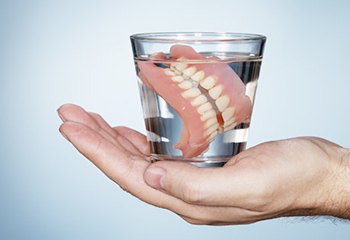 After you first receive your dentures, you can expect to deal with some minor soreness for a few days or even weeks. Don't worry; this should subside as your mouth gets used to your new teeth. It may take some time to grow accustomed to eating. To make it easier, start by cutting your food into bite-size chunks and avoiding sticky foods. Chew evenly on both sides of your mouth to avoid your dentures coming loose or out of place. You can gradually eat larger chunks of food as you get used to chewing with your dentures.
It's almost always a good idea to avoid sleeping with your dentures in. Taking them out at night gives your gums and jawbone a chance to rest from the pressure of holding your teeth in place all day. Let them soak in denture cleanser and lukewarm (NOT hot) water while you sleep. When you wake up, gently brush your dentures, gums, tongue, and palate with a soft-bristled toothbrush (but no toothpaste, as that could be abrasive to the dentures). This will prevent plaque buildup that could cause gum infections.
Lastly, be sure to see us for a checkup every six months, even if you have no teeth left. Your gums are just as much a part of your oral health as your teeth, and it's imperative that they're in good condition. We can also evaluate the state of your dentures to determine when they need to be re-fitted or replaced.
Understanding the Cost of Dentures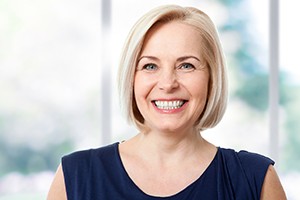 Are you searching for a reliable way to restore your smile? Dentures are one of the most popular and affordable ways to replace missing teeth. As with any type of dental work, the cost of dentures in South Portland can vary greatly from patient to patient. During your initial consultation with Dr. Kivus or Dr. Fillebrown, they will carefully examine your mouth, discuss your smile goals, and provide an accurate cost estimate. If you want to know a bit more about the different factors that influence the cost of dentures before visiting our office, keep reading below.
Factors that Affect the Cost of Dentures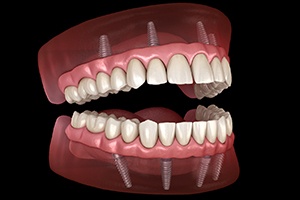 There are three major factors that will influence the cost of your dentures:
If you need preliminary treatments, such as tooth removal or gum disease therapy, to prepare your mouth for dentures
The type of acrylic used to make the base (the part that is dyed to match your gum tissue)
The custom replacement teeth, which are typically made from acrylic or porcelain
Shopping around for the cheapest dentures can be tempting, but it is unlikely to pay off in the long term. High-quality dentures from an experienced denture dentist in South Portland are more likely to last longer and fit comfortably than cheaper alternatives. When it comes to restoring your smile, quality counts!
Are Implant Dentures More Expensive?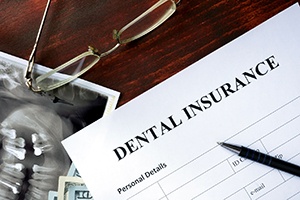 Implant dentures usually cost more upfront than traditional dentures, but for good reason. Unlike conventional restorations, dental implants replace missing teeth from the roots up. By fusing directly with the jawbone, implant dentures offer maximum stability and restored chewing power. They never shift when eating or speaking, and they look just like natural teeth! In addition, dental implants can last for decades with proper care. Traditional dentures, on the other hand, typically must be replaced every 5 to 7 years. Thanks to the long-lasting nature of dental implants, you could actually save money in the long run by investing in implant dentures.
Does Dental Insurance Cover Dentures?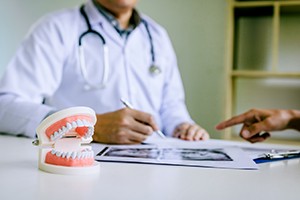 Yes, most dental insurance plans cover around 50% of the cost of dentures. However, no two insurance plans are exactly alike. Be sure to confirm your coverage with your insurance provider before making any final decisions about how to replace your missing teeth. Need help? Our knowledgeable team will be happy to assist you in understanding the details of your insurance coverage. We always strive to help patients maximize their insurance benefits. We will even file claims on your behalf so you can avoid the hassle!
Other Options for Making Dentures Affordable
At Gannett Drive Dental, we are committed to working with patients to achieve their smile goals in an affordable way. While dental insurance can help reduce your out-of-pocket costs, there are other ways to replace missing teeth without busting your wallet. If you do not have dental insurance, we will gladly work with you to help determine your best available payment options. To learn more about dentures in South Portland, including how to fit them into your budget, schedule a consultation at our office with Dr. Kivus or Dr. Fillebrown today.
Denture FAQ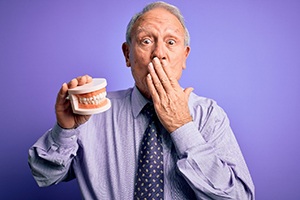 Whether you're receiving dentures for the first time or you've had multiple sets throughout your life, you're always welcome to ask our office questions and get clarification on your future tooth replacement. Below, we've cataloged a handful of some of the most common questions we've heard at Gannett Drive Dental for your convenience. If you have other concerns or would simply prefer to speak with Dr. Kivus or Dr. Fillebrown directly, give us a call and we'll get you scheduled for an appointment.
Should I Have All My Teeth Pulled to Get Dentures?
While it's always better to have your natural teeth repaired, rather than extracted and replaced, sometimes removing teeth is the better option. We only recommend extracting teeth if it's absolutely necessary and once our team has explored all other options. If most or all of your teeth are damaged to the point where they can't be restored, extracting them and using a full denture may be the more cost-effective solution. There's no limit on how many teeth we can extract in a single appointment, but certain teeth can be more tricky to remove than others.
Can I Sleep with My Dentures?
We do not recommend sleeping with your dentures, with the exception of the first time you receive them. In this instance, we recommend wearing them for 24 hours. However, after that initial period, you should take them out at night. By wearing your dentures for too long, you restrict blood circulation to your gums. This can lead to soft tissue irritation and cause your ridge to resorb faster. Taking them out periodically gives your gums time to recover and get the nutrients they need every day. You may also experience higher levels of gum and tongue plaque if you wear your denture for too long.
Will Dentures Change the Shape of My Face?
The more teeth you lose, the more your facial muscles begin to sag. This can cause your face to maintain a sunken appearance. By wearing a denture, you can provide support for your facial muscles, improving your overall look. If your dentures do not fit properly, your facial muscles aren't getting the support they need. For this reason, you should get your denture refitted or replaced if you notice they don't fit as well as they should be.
Can I Have My Dentures Relined if They Don't Fit Properly?
Over time (and due to wear and tear), dentures need to be relined if their shape changes. Additionally, they could need repair if some of the teeth inside them are lost or broken. As your underlying bone structure and gum line begin to transform, they may also need to be refitted. Keep in mind that relines are not typically covered under dental insurance.
There are two types of relines to consider. First, there's soft relines, which are performed if your gums are sensitive to the weight of the denture. To perform a soft reline, we add more cushion to the denture to reduce gum irritation.
The second type is a hard reline, which is done for more extensive issues. These require you to send your denture to an offsite lab. However, they can last for years afterwards.