Dental Bridges – South Portland, ME
A Simple, Effective Remedy to Tooth Loss
With many options available today to replace missing teeth, more patients than ever before are turning to dental bridges instead of dentures. It's not hard to see why, with all the benefits that bridges offer. Here at Gannett Drive Dental, we are dedicated to providing high-quality yet affordable solutions to tooth loss, and for many patients, the answer is a dental bridge. To learn more about how bridges can help you smile your best, give us a call today!
What Are Dental Bridges?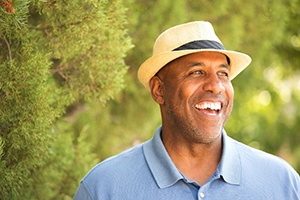 A dental bridge is a fixed restoration designed to replace one, two, or three missing teeth in a row. With a traditional bridge, dental crowns are placed on the remaining teeth at the ends of the gap in your grin, with artificial teeth called pontics suspended between them. These crowns and pontics are typically made of dental porcelain, a material known for its remarkable ability to mimic tooth enamel and look like a natural portion of your smile.
We also offer bridges retained by dental implants. Instead of being placed on your natural teeth, the crowns are installed on top of titanium posts that are surgically inserted into your jawbone. This option is generally sturdier and lasts longer than a traditional bridge.
Benefits of Dental Bridges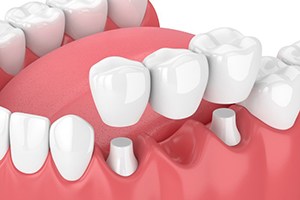 Bridges are a fast, simple, and cost-effective way of replacing missing teeth. Since not every patient is a candidate for dental implants, it combats tooth loss without your having to undergo an oral surgery.
Dental bridges also give you back the ability to speak clearly and chew your favorite crunchy foods with ease. They support the muscles of your face to prevent premature drooping. They also keep your remaining teeth from drifting out of position. Not replacing missing teeth often results in a slew of oral health problems, including an increased risk for gum disease and additional tooth loss. Bridges can restore your healthy, beautiful smile once again!
The Process of Getting a Dental Bridge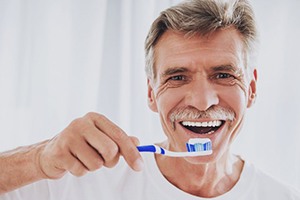 For a traditional bridge, we'll spend the first of two appointments preparing your abutment teeth, which are the teeth that will receive the crowns and support the restoration. This step involves removing a thin layer of enamel from those teeth to ensure there's enough room in your mouth for the bridge. We then take impressions of that section of your mouth to create a mold, which is sent to a dental lab. While they get to work crafting your new teeth, we can place a temporary bridge to protect your gums and teeth.
A few weeks later, you'll return to our office and we'll switch your temporary out with a permanent bridge. We'll also provide you with information on maintaining your bridge so that it lasts as long as possible.
Caring for Your Dental Bridge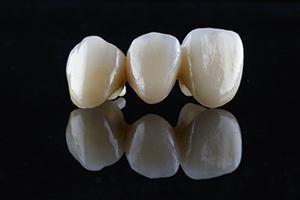 With the proper care, your bridge can last up to 15 years before it needs a replacement. However, you need to keep the underlying teeth and gums healthy in order to provide a strong foundation for your bridge. To do this, brush your bridge twice daily as if it were your natural teeth. Once a day, thread dental floss underneath it to remove any stray food debris and plaque. Lastly, visit us for a checkup and cleaning every six months to keep your smile in optimal condition.
Dental Bridges FAQs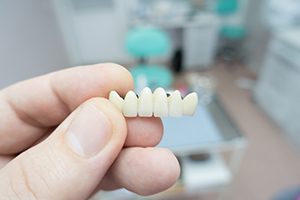 Tooth loss can affect more than just your appearance – it can impact your quality of life as well. Fortunately, you no longer have to live with gaps in your smile. At Gannett Drive Dental, we offer dental bridges to replace your missing teeth. Even though they are a trusted tooth-replacement solution, it's understandable to have some questions before committing. Below, we've answered some frequently asked questions from patients about dental bridges in South Portland. If you don't see your question, be sure to contact our team.
Can You Take a Dental Bridge Out?
No, since dental bridges are designed to stay in your mouth for years after they've been placed. You shouldn't be able to take the restoration out by yourself – only a dental professional can do that. While you may have heard partial dentures referred to as "removable bridges," that's not accurate. One of the most notable differences between partials and bridges is that partials can be removed at any time.
How Many Teeth Can a Dental Bridge Replace?
Dental bridges can replace a single missing tooth or several in a row. As a result, they are ideal for patients who are missing 1-4 teeth. If you are unsure whether dental bridges are right for addressing your specific dental needs, then don't hesitate to schedule a personal consultation with our dentist in South Portland – he will help you decide.
How Long Should a Dental Bridge Last?
Dental bridges typically last 5-15 years. The longevity of yours depends on a few factors like the materials used, the location of the dental bridge in your mouth, and how well you care for your smile. To elaborate, high-quality materials (we use dental porcelain) will naturally last longer than cheaper alternatives that are a short-term solution at best. The location matters as well since dental bridges toward the back of your mouth withstand a lot more pressure from chewing. And, of course, your oral hygiene routine will impact the condition of your teeth, gums, and dental bridge.
Is Getting a Dental Bridge Painful?
Before your procedure, we'll numb your teeth with a topical anesthetic to ensure you're completely comfortable. After your teeth are prepared to support a dental bridge, they may feel slightly sensitive for the next few days. The good news is you can easily manage your discomfort by taking over-the-counter pain medication as needed. If you're receiving an implant bridge, you may experience mild soreness after your oral surgery. However, diligently following your aftercare instructions will help keep your pain to a minimum.