Dental Bridges – South Portland, ME
A Simple, Effective Remedy to Tooth Loss
With many options available today to replace missing teeth, more patients than ever before are turning to dental bridges instead of dentures. It's not hard to see why, with all the benefits that bridges offer. Here at Gannett Drive Dental, we are dedicated to providing high-quality yet affordable solutions to tooth loss, and for many patients, the answer is a dental bridge. To learn more about how bridges can help you smile your best, give us a call today!
What Are Dental Bridges?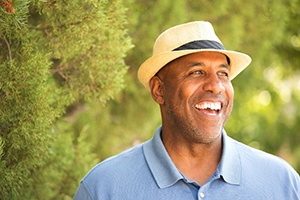 A dental bridge is a fixed restoration designed to replace one, two, or three missing teeth in a row. With a traditional bridge, dental crowns are placed on the remaining teeth at the ends of the gap in your grin, with artificial teeth called pontics suspended between them. These crowns and pontics are typically made of dental porcelain, a material known for its remarkable ability to mimic tooth enamel and look like a natural portion of your smile.
We also offer bridges retained by dental implants. Instead of being placed on your natural teeth, the crowns are installed on top of titanium posts that are surgically inserted into your jawbone. This option is generally sturdier and lasts longer than a traditional bridge.
Benefits of Dental Bridges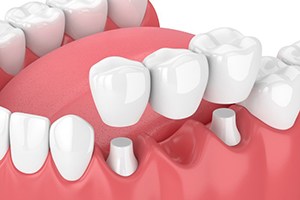 Bridges are a fast, simple, and cost-effective way of replacing missing teeth. Since not every patient is a candidate for dental implants, it combats tooth loss without your having to undergo an oral surgery.
Dental bridges also give you back the ability to speak clearly and chew your favorite crunchy foods with ease. They support the muscles of your face to prevent premature drooping. They also keep your remaining teeth from drifting out of position. Not replacing missing teeth often results in a slew of oral health problems, including an increased risk for gum disease and additional tooth loss. Bridges can restore your healthy, beautiful smile once again!
The Process of Getting a Dental Bridge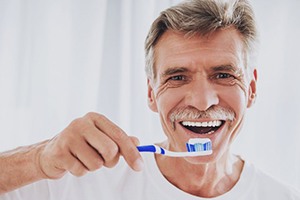 For a traditional bridge, we'll spend the first of two appointments preparing your abutment teeth, which are the teeth that will receive the crowns and support the restoration. This step involves removing a thin layer of enamel from those teeth to ensure there's enough room in your mouth for the bridge. We then take impressions of that section of your mouth to create a mold, which is sent to a dental lab. While they get to work crafting your new teeth, we can place a temporary bridge to protect your gums and teeth.
A few weeks later, you'll return to our office and we'll switch your temporary out with a permanent bridge. We'll also provide you with information on maintaining your bridge so that it lasts as long as possible.
Caring for Your Dental Bridge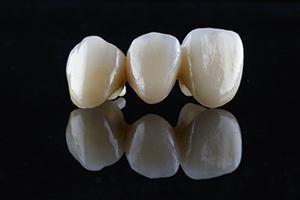 With the proper care, your bridge can last up to 15 years before it needs a replacement. However, you need to keep the underlying teeth and gums healthy in order to provide a strong foundation for your bridge. To do this, brush your bridge twice daily as if it were your natural teeth. Once a day, thread dental floss underneath it to remove any stray food debris and plaque. Lastly, visit us for a checkup and cleaning every six months to keep your smile in optimal condition.