Benefits of Dental Implants – South Portland, ME
Why Dental Implants Are The Superior Option
Thanks to advancements in dentistry, patients struggling with tooth loss have a variety of tooth-replacement options to choose from. However, one solution stands out from the rest: dental implants. Year after year, they are regarded as the superior option by professionals and patients alike. After all, they do much more than just fill the gaps in your smile! To learn more about the benefits of dental implants in South Portland, keep reading, or contact our office.
Tooth Replacement Solution Built to Last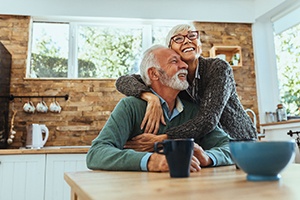 Dental implants have come a long way since they were first invented. In fact, experts believe that materials like animal bones and seashells were once used to replace missing teeth. Naturally, the results were short-lived. Fortunately, the same cannot be said for modern dental implants! Due to the high-quality materials used and expert placement, they can last 30+ years with proper care. Conversely, dentures and bridges need to be replaced every decade or so, making dental implants extremely cost-effective in the long run.
Lifelike In Every Sense of the Word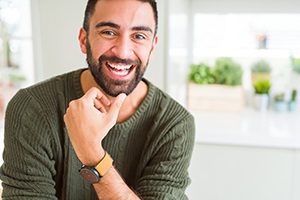 Currently, dental implants are the only tooth-replacement option that replaces the entire tooth from root to crown. The result? Your smile will be as functional as it is beautiful! Unlike dentures and bridges, this state-of-the-art restorative solution actually stimulates your jawbone as you chew, effectively preventing bone loss. Plus, they are custom-made to match the size, shade, and shape of your missing tooth so it seamlessly blends in with your natural teeth. In short, when you choose dental implants, you can have peace of mind the restoration will look and feel lifelike.
No Altering of Natural Teeth Required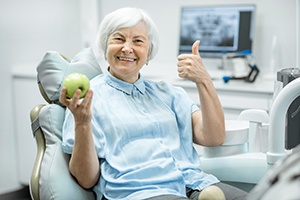 Dental bridges are extremely effective at replacing one or more missing teeth, but they have one important drawback: they require the enamel to be shaved down on the adjacent teeth. That's because the bridge needs an anchor to remain firmly in place. On the other hand, dental implants leave your healthy teeth completely intact! So, if you are missing multiple teeth in a row, consider opting for an implant-retained bridge instead.
Extremely High Success Rate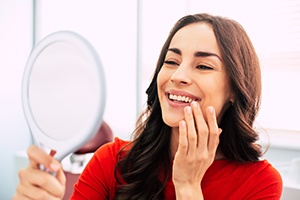 Perhaps one of the biggest advantages of dental implants is that they boast an impressive 95% success rate! Prolonging the lifespan of yours is a relatively simple task too since they can be cared for with the same best practices your natural teeth benefit from. Just make sure to brush twice a day, floss daily, and visit our office every six months for a dental checkup and cleaning. It is also a good idea to avoid poor dental habits, like using tobacco products and chewing on ice, to keep your new and improved smile in pristine condition for as long as possible!
Want to Learn More About Dental Implants?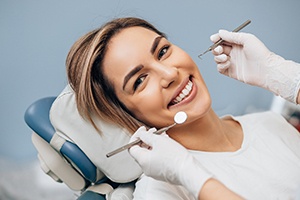 Are you ready to regain the smile you've been missing? Do you want to enjoy the above benefits and more? Then now is the time to schedule your appointment! From there, you'll be yet another step closer to a full, healthy, beautiful smile.