Implant-Retained Dentures – South Portland, MA
We Can Securely Rebuild Your Smile
Are you missing most or even all of your teeth? If so, you're not alone. About 40 million Americans have lost all of their teeth, according to the American College of Prosthodontists. Maybe you've gotten a pair of dentures, but they've lost their fit and have started slipping around at inopportune moments. Here at Gannett Drive Dental, we can securely rebuild your smile with an implant-retained denture. By anchoring a full or partial denture onto dental implants, we can replace all of your missing teeth with a solution that looks and feels completely natural. Contact us today to learn more!
How Do Implant-Retained Dentures Work?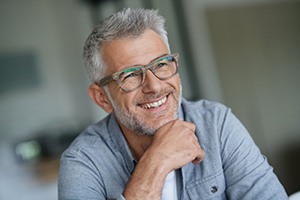 Implant-retained dentures combine the benefits of both dentures and dental implants to give your smile unparalleled function and beauty. We surgically place dental implants, which are small screw-shaped titanium posts, into your jawbone in order to support your denture. Traditional prosthetic teeth simply sit atop your gums, while an implant-retained denture permanently anchors your dentures to your jaw. This solution is not only more comfortable and lifelike, but it replenishes more of your original biting force, allowing you to enjoy all of your favorite crunchy and chewy foods.
Am I A Candidate for Implant-Retained Dentures?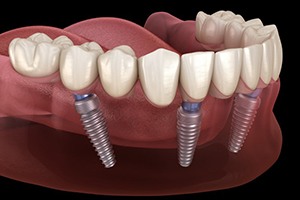 Ideal candidates for implant-retained dentures will have a jawbone that is strong enough to accommodate dental implants. However, if you've lost bone density in your jaw (which is common after tooth loss), bone grafting can strengthen the bone and increase your eligibility. You should also be committed to good oral hygiene to ensure your implants last. Lastly, you shouldn't smoke or have any chronic health conditions that could complicate healing. If you do, that doesn't necessarily mean you can never get dental implants. You might simply have to take some extra precautions.
During your consultation, Dr. Kivus and Dr. Fillebrown can examine your mouth and go over your medical history to determine your candidacy for this treatment.
The Implant-Retained Dentures Procedure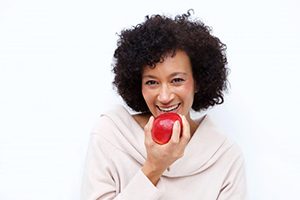 After deciding that implant-retained dentures are right for you, we can develop a personalized treatment plan. First, we open your gum tissue to access your jawbone. Four to six implants posts are surgically placed in each jaw. Your gums are then stitched closed. Over the next three to six months, the implants will gradually become a part of your own body by fusing to your jawbone. Once this process, known as osseointegration, is complete, we can attach your custom-made denture onto your implants, giving you a beautifully restored smile.
Benefits of Combining Dentures & Dental Implants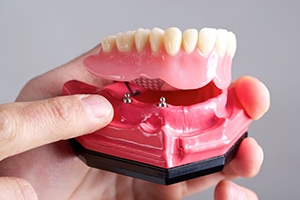 By securing a denture onto dental implants, you can enjoy the following benefits:
Confidence when smiling in public
Clear speech
Natural appearance and feel
Improved biting and chewing power
Easy maintenance – just brush and floss your dentures like natural teeth
Jawbone preservation that keeps you looking young
No unexpected or embarrassing slippage
No gum irritations