Dental Implants – South Portland, ME
The Modern Solution to Tooth Loss
Are you missing one, several, or even all of your teeth? The empty spaces in your smile may seem to be growing wider and wider, making you self-conscious about your appearance. You may also find it challenging to chew your food and clearly enunciate your speech. Additionally, you are at an increased risk of future tooth loss and other oral health problems. What can help you fill in the gaps and regain a complete, healthy smile?
As the modern solution to tooth loss, dental implants in South Portland, ME are far and away the best option. Here at Gannett Drive Dental, our skilled dentists can perform every step of the dental implant treatment process under one roof. Give us a call today to get started!
Why Choose Gannett Drive Dental for Dental Implants?
Dental Implants Conveniently Placed & Restored In-House
Patient Comfort Is Our Top Priority
Reasonable Prices with No Surprises
What Are Dental Implants?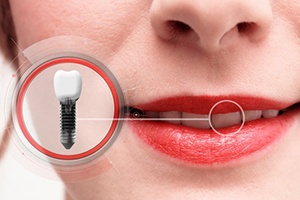 Dental implants are the only tooth replacement designed to bring back the entire tooth, from the roots up through the crown. The dental implant itself is a small titanium post that is placed directly in your jaw to act as an artificial tooth root. Titanium is biocompatible, which allows it to fuse with your jawbone to create long-lasting and sturdy support for any number of replacement teeth. After the implants have integrated with your jaw, we can place a custom-made dental crown, bridge, or denture on top to recreate the exact look and feel of your original smile. With the right care and maintenance, you can expect your dental implants to last for several decades, if not a lifetime!
Benefits of Dental Implants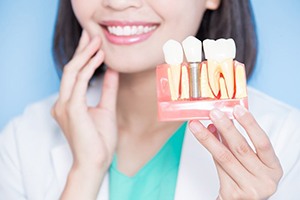 Patients and professionals alike have long regarded dental implants as the superior tooth replacement. This is due to their unique structure that replicates the root of a tooth that is normally hidden underneath the gumline. As a result, this solution offers advantages that you simply will not find with more traditional options like dental bridges and dentures. Keep reading to learn a few of them!
Tooth Replacement Solution Built to Last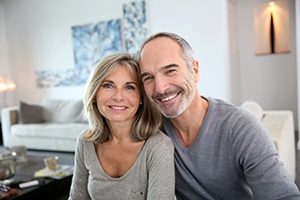 Dental implants have come a long way since they were first invented. In fact, experts believe that materials like animal bones and seashells were once used to replace missing teeth. Naturally, the results were short-lived. Fortunately, the same cannot be said for modern dental implants! Due to the high-quality materials used and expert placement, they can last for 30+ years with proper care. Conversely, dentures and bridges need to be replaced every decade or so, making dental implants extremely cost-effective in the long run.
Lifelike in Every Sense of the Word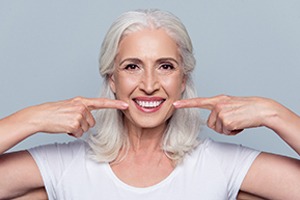 Currently, dental implants are the only tooth replacement option that brings back the entire tooth from root to crown. The result? Your smile will be as functional as it is beautiful! Unlike dentures and bridges, this state-of-the-art restorative solution actually stimulates your jawbone as you chew, effectively preventing bone loss. Plus, they are custom-made to match the size, shade, and shape of your missing tooth so it seamlessly blends in with your natural teeth. In short, when you choose dental implants, you can have peace of mind that the restoration will look and feel lifelike.
No Altering of Natural Teeth Required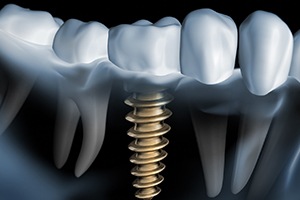 Dental bridges are extremely effective at replacing one or more missing teeth, but they have one important drawback: they require the enamel to be shaved down on the adjacent teeth. That's because the bridge needs an anchor to remain firmly in place. On the other hand, dental implants leave your healthy teeth completely intact! So, if you are missing multiple teeth in a row, consider opting for an implant-supported bridge instead.
Extremely High Success Rate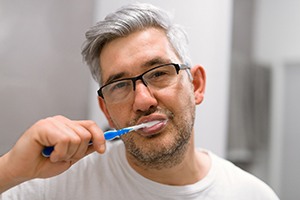 Perhaps one of the biggest advantages of dental implants is that they boast an impressive 95% success rate! Prolonging the lifespan of yours is a relatively simple task too since they can be cared for with the same best practices your natural teeth benefit from. Just make sure to brush twice a day, floss daily, and visit our office every six months for a dental checkup and cleaning. It is also a good idea to avoid poor dental habits, like using tobacco products and chewing on ice, to keep your new and improved smile in pristine condition for as long as possible!
Who Dental Implants Can Help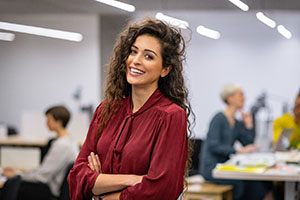 One reason why we recommend dental implants to help our patients replace their missing teeth is the fact that the treatment is highly versatile. Whether you've lost just one tooth or an entire arch of teeth, dental implants can help you enjoy a complete smile again. After we've examined your mouth, we can determine whether dental implants are really the best choice for you and put together a personalized treatment plan based on your needs.
Who Is a Good Candidate for Dental Implants?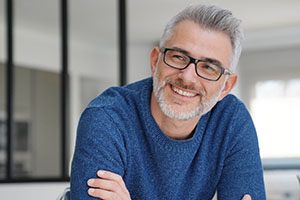 Most healthy adults with missing teeth are considered candidates for dental implants, which is part of the reason why they've become such a popular option for tooth replacement. We may recommend dental implants if you:
Are healthy enough for a minor surgical procedure.
Have a mouth that's free of gum disease and other oral health issues that could lead to implant failure.
Have a jawbone that's strong enough to support dental implants.
Periodontal therapy, bone grafting, and other preliminary procedures might be recommended if you don't currently meet the above criteria. In many cases, you'll be able to get implants once your mouth has finished healing from these preparatory treatments.
Missing One Tooth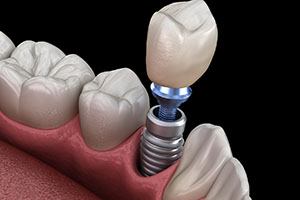 When you are missing just one tooth, we can place a single dental implant in the space where it used to be. After the implant has joined with your jawbone, we can restore it with a single crown that has been designed to blend in with your natural teeth. An implant crown is a sturdier alternative to a traditional dental bridge; it can potentially last for decades, and it can be placed without having to make any changes to your natural teeth.
Missing Multiple Teeth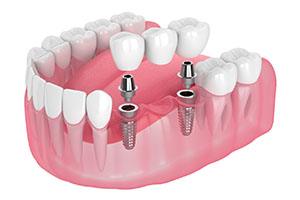 When you are missing at least three teeth in a row, an implant bridge can be used to replace them all at once. The bridge will be made of two crowns and at least one prosthetic tooth called a pontic. The crowns will be anchored to a pair of implant posts so that the pontic(s)can fill in the gap. In cases where teeth are missing in multiple parts of your mouth, dental implants can also be used to support a partial denture; the exact number of implant posts required will depend on your needs.
Missing All Teeth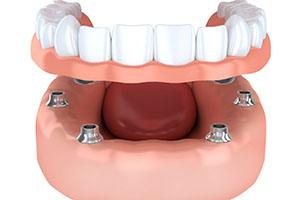 A full denture can be attached to four or more dental implant posts, thus giving you a way to replace all of your teeth at once while still enjoying a smile that will stay in place at all times. Oftentimes implant dentures are designed to stay in your mouth 24/7, allowing you to brush and floss them as if they were your natural teeth. However, depending on your oral health needs or preferences, we can also design implant dentures to be removable, allowing you to take them out of your mouth so that you can give them a thorough cleaning after meals.
Understanding the Cost of Dental Implants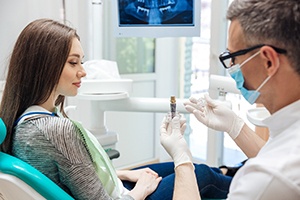 The cost of dental implants is difficult to nail down until you've had a detailed examination performed by a dentist. During this visit, they can confirm the status of your oral health and whether or not you need to have preparatory treatments completed before dental implants are placed. For example, bone grafts, periodontal therapy, and sinus lifts can all improve viability if your jawbone has deteriorated too much over the years. Cost can also be influenced by the time of restoration created and the number of implants needed to replace teeth.
Keep in mind that dental implants are largely considered to be the most cost-effective tooth replacement option available because they do not require the same level of maintenance as other tooth methods.
Types of Dental Implants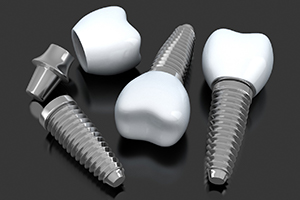 When you visit our office for your consultation, we'll capture images of your mouth and determine what type of dental implant restoration will best fit your needs. Depending on how many teeth you're missing, we may suggest one of the following options:
Single Tooth Implant: If you're missing a single tooth, we'll suggest replacing it with a single implant topped with a custom-crafted dental crown.
Implant Bridge: For multiple consecutive missing teeth, we may recommend an implant bridge, which is held in place by at least two dental implants. Unlike a traditional bridge, one retained by implants doesn't involve altering your healthy surrounding teeth.
Implant Denture: The costliest dental implant restoration would obviously be a complete denture. These require the support of at least four dental implants to replace an entire arch of missing teeth.
What are the Stages of Dental Implant Treatment?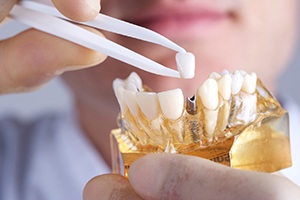 The dental implant procedure is the same, no matter what type of restoration you require. Our dentists at Gannett Drive Dental will begin the process with an initial consultation that will determine whether you require preparatory procedures such as a bone graft. After these have been completed, you will have your implants surgically placed, followed by a healing period of a few months. After your gums have completely healed, we'll be ready to place your abutments, which are small connector pieces that will attach your restorations to your implants. Your final appointment will consist of placing your permanent restorations to complete your newly reconstructed smile.
One great feature about this process is that each phase incurs a separate fee, which means that the entire amount won't be due at the same time. This allows patients to easily pay for each visit separately. These individual fees will include the:
Initial consultation
Preparatory procedures (if necessary)
Anesthesia
Implant placement
Abutment placement
Custom restoration
Are Dental Implants Worth the Investment?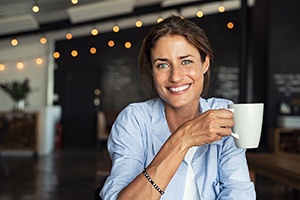 We highly recommend dental implants because they provide our patients with countless benefits and lifelike replacement teeth that improves their overall quality of life. While there are multiple tooth replacement solutions available, dental implants in South Portland are the only treatment that replaces the entire structure of missing teeth from the roots up, promoting jawbone growth and improved oral health. Some additional benefits that make dental implants worth the investment include:
Long Lifespan: With the proper care, your dental implants can last for up to 35 years, as opposed to an average lifespan of seven to 10 years.
Natural Look and Feel: Dental implants look and feel more natural than traditional restorations because they're securely anchored in your jawbone, just like your natural teeth.
Easy Maintenance: Just like your natural teeth, you can easily care for your implant restorations by brushing twice each day, flossing at least once a day, rinsing with antibacterial mouthwash, and visiting our office for your semi-annual checkups and cleanings.
Does My Dental Insurance Cover Dental Implants?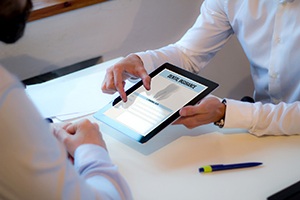 Most dental insurance policies don't cover the cost of dental implants. However, that's beginning to change, so it's best to contact your insurance company directly to double-check. At Gannett Drive Dental, we gladly work with our patients to determine their best available payment options. If you have any questions, don't hesitate to contact our office today to schedule a consultation!
Dental Implant FAQs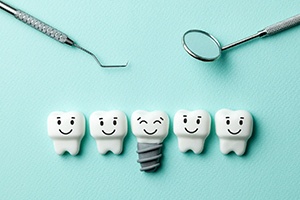 Tooth loss is a common issue that people face all throughout the country. Fortunately, there are tooth replacement options out there that can restore your smile, including dental implants. However, you want to be well informed so you can make the best decision for the future of your smile. Here are the answers to some of the most common questions we receive about dental implants. If you don't see your question listed below, just give us a call! We'd be happy to get you the information you're looking for and set you up for a consultation.
How Long Do Dental Implants Last?
Dental implants can last for upwards of 30 years and often several times longer than traditional bridges and dentures. Their lifespan depends on the health and lifestyle of the patient. To ensure that implants last, it is important to brush, floss, and rinse with a mouthwash on a daily basis. Always attend your regular cleanings and checkups to ensure that your implants are in good shape. Avoid chewing on anything that is particularly hard or sticky.
Does Getting Dental Implants Hurt?
Your mouth will be numbed with a local anesthetic before the procedure begins. You will also most likely be sedated which will lower your body's ability to register pain. The surgery will not hurt, but your mouth may be sore for a few days afterwards. To manage the pain, take prescribed and over-the-counter medication as directed and use cold compresses. If your discomfort worsens instead of improving after several days, give us a call.
How Successful Are Dental Implants?
When placed by a skilled professional, dental implants can have a success rate of over 95%! This will all depend on how well you care for them with proper oral hygiene, routine checkups, a healthy diet, and wholesome lifestyle choices. Success also varies on where the implant is located in the mouth. Since molars receive more strain from chewing than the front teeth, they may be slightly more likely to fail. However, with excellent maintenance, your implants are very likely to be successful.
Can I Get Dental Implants If I Smoke?
Being a smoker doesn't automatically disqualify you from getting dental implants, but smokers do have a higher risk of dental implant failure. Smoking tobacco can cause dry mouth, slow down healing, and interfere with the implants' ability to fuse with the jawbone. Smoking can also increase your risk of dry socket, which is when the blood clot forming over the implant site dislodges. If you smoke, you will need to quit at least two weeks before and several months after the procedure. This is also a great time to give up smoking for good!
Maintaining & Caring For Your Dental Implants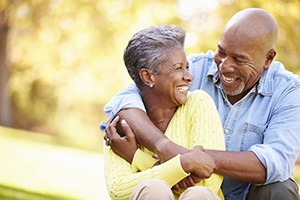 Proper dental implant care in South Portland is essential if you want your new teeth to last an average of 30+ years. Oral hygiene, eating healthy foods, breaking bad habits, wearing proper mouth protection, and continuing to visit your dentist are all considered impactful and beneficial ways to keep your new and improved prosthetics from failing. So, if you're ready to enjoy your beautiful, healthy smile for the rest of your life, make sure you're following these tips.
Making Oral Hygiene a Priority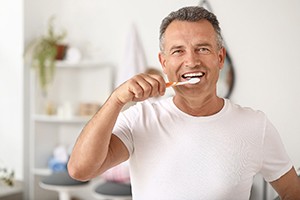 Just because you have one or more artificial teeth doesn't mean you can neglect your oral hygiene. Gum disease can still be a serious problem even if you have a full implant denture. Tooth decay is also possible should you have any remaining natural teeth. By choosing to brush twice a day for two minutes, floss after your meals, and rinse regularly, you can minimize your risk for these common oral health problems as well as lower your chances of dental implant failure.
Eating a Healthy Diet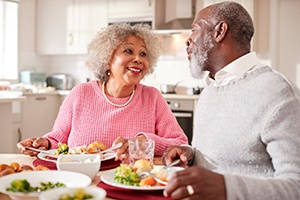 Do you find yourself consuming lots of potato chips, pasta, candy, and sugary beverages? If so, it's time to make the switch to healthier alternatives such as leafy greens, lean proteins, fruits, vegetables, and low-fat dairy. These foods are designed to not only slim your waistline but also promote better gum and oral health, which means your dental implants in South Portland have a better chance of staying firmly in place.
Breaking Bad Habits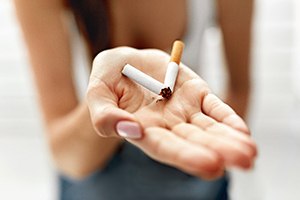 Smoking, biting your fingernails, eating ice, and even using your teeth as tools are all potentially dangerous habits that can negatively impact your dental implants. Over time, it is natural for your customized crown, bridge, or denture to develop small cracks or fractures from wear and tear, but you want to avoid damaging your implant post. If you need help breaking up with these bad habits, don't be afraid to ask for help. We can recommend alternative ideas such as chewing sugar-free gum or finding a cessation group to help you quit.
Protecting Your Dental Implants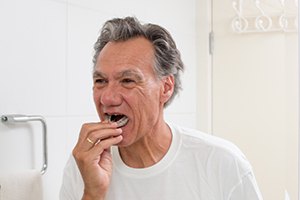 A customized mouthguard is a worthwhile investment when wearing dental implants, especially if you play sports or suffering from bruxism. Any type of unnecessary pressure placed on your teeth can lead to breakage, which results in a necessary visit to the emergency dentist. Whether caused by a sports injury or teeth grinding at night while you sleep, you could be faced with a costly repair. To avoid chips, breaks, and other serious damage to your natural teeth and dental implants, it's best to wear a mouthguard.
Scheduling Regular Dental Checkups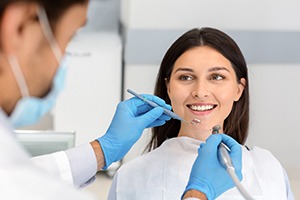 While all the above-mentioned tips are important and highly effective in keeping your dental implants in optimal shape, you cannot forget to keep your scheduled dental checkups and cleanings with our team. Your implant dentist in South Portland is capable of seeing areas of your smile you cannot, and the instruments used to clean your teeth are more powerful and effective than your toothbrush. With these regular visits, our team can not only check for signs of decay, infection, and disease but also examine your prosthetics to ensure they are looking good and free of damage.