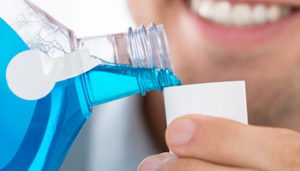 Remembering to brush your teeth each morning and night with a soft-bristled toothbrush and fluoridated toothpaste is an important first step in preventing problems with cavities and gum disease. At the same time good oral hygiene practices also require you to floss between each of your teeth and along the gumline once per day.
Once you are done brushing and flossing you might also want to vigorously rinse your mouth a small amount of antiseptic mouthwash. The antiseptic agents can help kill oral bacteria while also helping to remove any loosened food particles and plaque.
It's also important to note that despite some marketing claims, antiseptic mouthwash is not considered an effective alternative to flossing and removing physical material from between teeth and the gumline.
When you are shopping for antiseptic mouthwash it's important to look for the American Dental Association's Seal of Acceptance on the label. This logo can only be printed on a product that has been tested and researched for safe and effective oral use.
Maintaining a healthy mouth also calls for having a dental checkup performed twice each year by a dentists like Drs. Kivus or Fillebrown. The outpatient appointment will clean away bacterial deposits from your teeth while also polishing away minor dental stains. It will also serve to detect developing oral health issues to help catch them before they worsen.
If you live in the South Portland, Maine, area and you have oral hygiene concerns, you can call 207-253-5600 to schedule a dental checkup at Gannett Drive Dental.