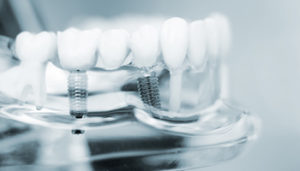 If you have missing teeth, and are looking for a fixed solution, then dental implants may be the perfect solution for you! Missing teeth are never a fun thing to deal with, but with implants, we can restore your smile and confidence.
Just what are dental implants?  They are artificial tooth roots that provide a permanent base for fixed, replacement teeth. They connect with the bone of the jaw or skull to support a dental prosthesis, and can either be used with a bridge, crown, or denture for a full set of teeth.
It used to be that many years ago, dentures were the only way to replace missing teeth, or perhaps a bridge or crown for a few teeth; however, since dental technology has advanced, we can now return your confidence in your smile with full functional teeth. At Gannett Drive Dental, we offer dental implants which, allow your dentist to stake replacement teeth directly into a metal post or frame; we then position it in your jawbone, surgically.
There are several differences between dentures and dental implants, which includes:
Fixed versus temporary option
Cost
Time for the process
Effectiveness
Comfort
Of course, only your dentist can determine what might be the best solution for you. Implants are a fixed solution to traditional dentures that are removable and held in with an adhesive; the process usually takes several months to complete, but when the implants are in, they are fixed, and you won't need to worry about them.
If you're interested in learning more, call us at 207-253-5600. We can schedule you for an appointment with Dr. John Kivus , who is trained in implant restoration, placing dental implants in South Portland, Maine, or both. Call us today, as our goal is to ensure your smile is fully functional, as well as brilliant!