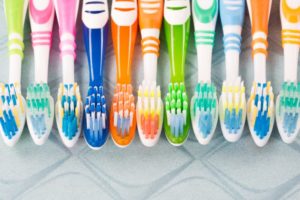 You've bought the same brand of toothbrush for years — or you just use the one your dentist gives you after checkups. It's nothing too fancy, definitely not too expensive, and you've never given much thought to trying a different kind. Your toothbrush works fine after all — but only just fine. Lately, your friend has been gushing about the new electronic toothbrush they recently bought. It's led you to wonder if you should try switching to a brush that could better satisfy you, but you're nervous about wasting your time and money.
Are you wanting to explore your toothbrush options but aren't sure where to start? In this post, you'll learn how to find the toothbrush that's best for you.
What Are the Main Types of Toothbrushes?
The two main kinds of toothbrushes are manual and electronic. While both are capable of keeping your mouth clean and healthy, there are some important differences that you should consider:
Cost
Manual toothbrushes are noticeably cheaper than electronic ones. After the initial purchase of an electronic brush, the removable brush heads (which need to be replaced as often as manual brushes) may still be more expensive than a replacement manual brush. Finding the right brush heads may also pose a challenge if your local stores do not carry the correct brand.
Comfort
Personal preference plays a large part in the choice between manual and electronic brushes. Some people do not like the feeling of an electronic brush's vibrations — something to keep in mind if you have sensitive teeth or gums. However, those with mobility limitations such as arthritis or carpal tunnel syndrome may find it easier to use an electronic brush, which will do most of the movement for you.
Effectiveness
Studies comparing manual and electronic toothbrushes have not found a significant difference between overall performance. However, evidence suggests that an oscillating (rotating) brush can be more effective than a manual or vibrating brush, especially when removing plaque.
While neither brush type is better than the other, electronic toothbrushes may have features that benefit those who need help with their oral hygiene. Electronic brushes with timers can ensure that you are brushing long enough. Some also find it easier to clean the entire tooth surface when using an electronic brush. Those with orthodontic appliances (such as braces) may also find it easier to use electronic models.
Which One is Best for Me?
It is ultimately up to you to decide which toothbrush type is best for you. Those with strong oral health who are confident and satisfied in their dental routine may prefer the cheaper manual brush. On the other hand, those with certain conditions or those who require a little more effort to maintain their oral hygiene might enjoy the additional perks of electronic brushes.
Finding the toothbrush that's right for you is just as important as choosing the right bed or pair of shoes. Knowing which type you're looking for saves you time, money and peace of mind. If you still have questions about which toothbrush is best for you, talk with your local South Portland dentist.
About the Practice
At Gannett Drive Dental, Drs. Kivus and Fillebrown are committed to providing the utmost comfort and quality care to every patient. Dr. Kivus has been practicing in Maine for over 38 years and is a proud member of the American Dental Association, the Maine Dental Association and the Greater Portland Dental Society. Additionally, he works as a clinical instructor at the University of New England, striving to educate others while expanding on his own knowledge. If you have further questions about maintaining oral hygiene, the doctors can be reached at their website or at 207-253-5600.