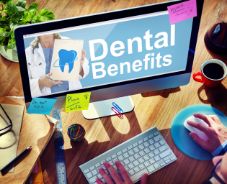 When it comes to money from your dental insurance plan, there are two choices: You can either use it yourself to see a dentist affordably, or the insurance company can keep it! Although most plans expire on December 31st, many people don't schedule their visits in time and wind up losing hundreds in benefits each year. Fortunately, you still have a chance to do something about it in 2019. Keep reading to learn the 4 questions you should ask to get the most from your dental insurance plan.
1. Have You Had a Checkup?
Dental insurance companies usually cover preventive visits like checkups and cleanings at 80%-100%. Why? They know that patients who get these services need less major dental work overall. Scheduling regular checkups is not only essentially free for you and your family, it's also a great way to minimize your time in the dental chair. And if you're paying a monthly premium, it's a good way to make sure you get something for your money.
2. Have You Already Paid Your Deductible?
A deductible is the amount of money you have to pay before your plan will pay for certain services (it usually doesn't apply to preventive services like checkups). Each plan is unique, but once the deductible is paid, here's how many plans cover basic and major dental work:
Basic restorative care – Services such as dental fillings are often covered at 80%.
Major restorative care – More involved procedures like dental crowns and bridges are usually covered at 50%.
If your deductible has been paid for 2019, lower your out of pocket costs by scheduling any unfinished treatment now. If you wait until next year, you'll just have to pay it all over again.
3. Do You Know What Your Annual Maximum Is?
An annual maximum is the amount your plan will spend on your dental work each year. It's typically $700 – $1,500, which is a lot of money you can use to improve your oral health. But don't forget: If you don't use this money before your plan expires, it won't roll over and you'll lose it!
4. Do You Need Major Dental Work? If So, Schedule It Strategically
If you need major dental work such as a root canal and crown or multiple fillings, ask your dentist if it's possible to schedule it strategically. For example, you could use your annual maximum in 2019 to pay for the root canal and then schedule the dental crown in early 2020. This way, you could use two annual maximums instead of one, greatly reducing your personal costs.
This year, don't miss out on your insurance benefits. Instead, use them to achieve great oral health as affordably as possible!
About the Author
Dr. John A. Kivus has decades of experience as a family dentist and is a graduate of Tufts University. He and his team have room in their schedule to accommodate patients at the end of the year and make every effort to help them get the most from their plan. If you'd like help maximizing your dental insurance or have any questions, you can reach him via his website.