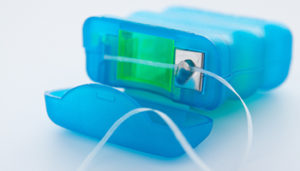 Are you flossing every single day? In addition, are you flossing effectively? In order to maximize the effects that dental floss can have, it is important to understand the differences between the products, and which ones work best for you. In addition, proper technique is essential to ensure your teeth receive the necessary cleanings.
Flossing is extremely effective for your oral health care as it can reach areas that brushing cannot. Brushing cannot clean between teeth, which is why an interdental cleaning tool is required. This includes threaded dental floss and water flossers. Whereas threaded dental floss uses a thread, water flossers use a beam of water to clean between teeth. Both are highly effective for your smile. However, it is important to make sure that you speak with the dentist about product recommendations and suggestions. In addition, always make sure you are flossing every single day and reaching all areas between each tooth for a deep clean. Be sure to brush with soft, gentle strokes, so you do not miss corners or cut your gums.
If you are in need of an interdental treatment from our team at Gannett Drive Dental at our dentist office in South Portland, Maine, please contact us at 207-253-5600 to schedule an appointment with Dr. John Kivus.