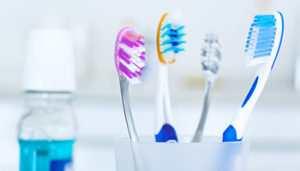 The foundational steps of oral care–brushing and flossing on a daily basis and visiting the dentist for routine dental checkups–are important to help you achieve stable dental health. However, there may be additional steps required to help you improve your oral health and keep oral issues at bay, and our team is happy to recommend some tips, including toothbrush care. Today we encourage patients to beware of sharing toothbrush, as these can spread harmful bacteria and illnesses between users.
Every smile has a unique combination of bacterial particles dwelling in the mouths, and these can transfer to the toothbrush each time it is used. While this may not affect your oral health, the transfer of bad bacteria to someone else's smile through shared use of a toothbrush can result in oral issues and illnesses. For example, bleeding gums that occur during tooth brushing can transfer blood-borne illnesses such as herpes and hepatitis to another person who then uses that toothbrush.
Instead of sharing oral care products, we encourage you to use alternative steps to clean your smile if you need a toothbrush but have to do without for a time. For example, popping a mint, swishing mouthwash around your smile, drinking peppermint tea or snacking on an apple can temporarily relieve a foul odor and help your mouth feel fresh until you are able to use your own toothbrush.
To learn more about risks of sharing a toothbrush in South Portland, Maine, we encourage you to call Gannett Drive Dental at 207-253-5600 today and arrange for a visit with Drs. Kivus and Fillebrown.