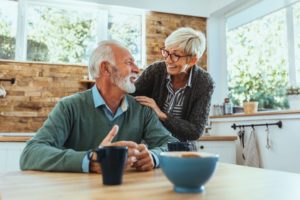 You are choosing to get dental implants because this modern restorative procedure boasts a 95 percent success rate and has improved thousands of lives. Unlike traditional replacement options like dentures, crowns, and bridges, dental implants are surgically placed in your jaw to replace the entire structure of your missing tooth. Like all dental procedures, there is a slight chance that your body won't accept the titanium posts. While failed implants are rare, if it does happen, it's important to identify it quickly and not panic. Read on to learn the symptoms of failing implants and what you should do.
Causes of Implant Failure
Dental implants have an impressive success rate of about 95 percent, but occasionally patients encounter failure. This can happen soon after the surgery or years later, depending on what complications you experience and how you're caring for your oral health. Soon after the surgery, you could develop some of the following issues:
Infection where your implant was placed.
Implants that lack stability and move.
Lack of jawbone density to support the implant.
Allergic reaction to titanium.
Failure to listen to your implant dentist's aftercare instructions.
You can prevent any additional damage or complications by learning how to spot the signs of these issues early so you can seek immediate attention.
Signs of Implant Failure
By brushing and flossing every day, you can keep your mouth, implants, and gums healthy and strong. Sometimes this may not always prevent them from failing. If you notice any of these signs, schedule an appointment with your implant dentist as soon as possible so you can get the treatment you need:
Difficulty or pain while chewing.
Inflamed gums.
Receding gums.
Swelling around the implant site.
Loose implant or restoration.
Severe pain and discomfort.
Knowing what to look out for can help you avoid developing long-term problems. The best way to prevent this issue from wreaking havoc on your oral health is to visit your dentist every six months for checkups and cleanings, just like you would with your natural teeth. This will allow them to spot any symptoms and also reduce your risk of having them fail.
Risk Factors That Increase Implant Failure
There are several factors that can result in implant failure, so it's important to try reducing your risk before you have them placed. This way, you can enjoy all the benefits they have to offer you. Some of these factors include:
Gum disease
Tobacco use
Insufficient jawbone density
Autoimmune diseases like rheumatoid arthritis and diabetes
Poor oral hygiene
Inexperienced implant dentist or surgeon
When you choose to invest in restorations, you'll want to be sure you get the most out of them. You can do this by mentioning any concerns you may to your implant dentist during your consultation. That way, they can treat these issues beforehand to reduce your risk of implant failure.
About the Author
Dr. John Kivus has been practicing in Maine for 38 years. His goal as a dentist is to improve his patients' quality of life by restoring their smile and helping them maintain optimal oral health. He offers comprehensive care including several restorative solutions such as crowns and bridges, dental implants, and dentures. For questions or to schedule a consultation for implants, visit Gannett Drive Dental's website or call 207-253-5600.