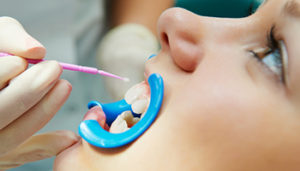 Do you know what a dental sealant is and how it can help protect your teeth? If you ever wanted to drastically lower your risk of tooth decay, consider the use of dental sealants. A dental sealant is a thin coating that is painted and apply directly to the chewing surfaces of vulnerable teeth such as your molars. When a dental sealant is in place, it can provide up to 10 years of protection before a replacement may be needed.
Through the use of a dental sealant, you can lower your risk of tooth decay by as much as 80%. Studies have shown that not only are they helpful for adults, but dental sealants have even been proven effective for children. Children can have dental sealants safely applied to their teeth as soon as their first molars begin to erupt above their gum line, which typically occurs around the age of six years old. Dental sealants are beneficial for individuals of all ages and can even help resist acids that would otherwise chew through your normal tooth enamel. Dental sealants also allow your teeth to keep their natural shine, so it may not negatively affect the appearance of your smile.
If you would like to add further protection to your smile with dental sealants, please stop by Gannett Drive Dental for an oral exam at our amazing dental office in South Portland, Maine. Schedule your appointment with Dr. John Kivus and our team by contacting us at 207-253-5600.