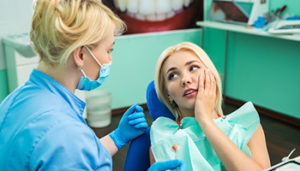 Dental emergencies can be frightening, and can have a serious impact on your oral health. This is why our dentist, Dr. John Kivus , strongly encourages our patients to avoiding and prevent dental emergencies. Unfortunately, you can't completely prevent dental emergencies because accidents do happen, but you can reduce your chances of having them, and take steps to lessen their impact. Our dentist has the tips you need.
-Wear a mouthguard while you're participating in high-contact sports and intense activities. A mouthguard can help you prevent knocked-out and broken teeth if you suffer a blow to the face.
-Limit the amount of acidic foods and drinks you consume. Over time, acids wear down the tooth enamel and makes it weak. In this condition they are more susceptible to injuries such as chips, breaks and fractures.
-Care for your smile. You should brush your teeth twice a day, and floss and rinse daily. You also need to attend your checkups with the dentist every six months. These things can help you keep your smile strong and healthy.
Call Gannett Drive Dental today at 207-253-5600 if you have any questions, or if you would like to know more. Our team will be happy to tell you all about how to reduce your chances of having a dental emergency in South Portland, Maine. We look forward to helping you!